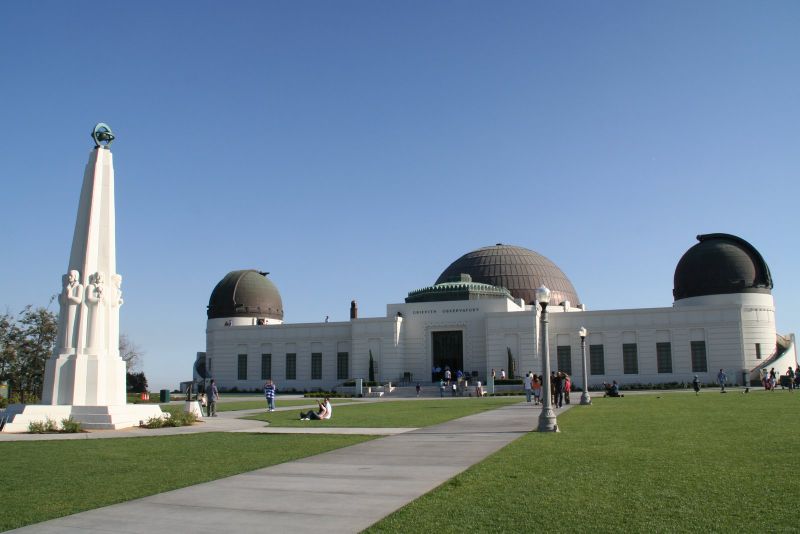 ASTRONOMY FIELD TRIP
TO GRIFFITH OBSERVATORY
DATE: Sunday March 3, 2013
DEPART FROM SBCC: 12:45 pm (the bus rolls at 1 pm, so get there BEFORE then so you can get loaded in time). Meet at the EBS loading dock, which is between the SBCC bookstore and the EBS building (just in front of the bookstore) and a little ways toward the ocean.
RETURN TO SBCC: Between 10:30 pm and 11:30 pm (depending on when our tour is over, traffic, etc).
COST: $40.00 to be paid at the SBCC Cashier. Make checks payable to SBCC or use your credit card.
HOW TO SIGN UP: Sign up with the SBCC cashier. Seats are given out on a "first come first served" basis as they are paid for. Let them know you are paying for the Griffith Observatory Field Trip. Once the bus is full, that's it, so sign up now. Space is limited. Trip is open to ONLY ERTH-101 Astronomy students up to two weeks before the trip, then available seats open to anyone after that!
WHAT TO BRING: Bring food for dinner and/or money to buy dinner at the Griffith cafeteria/cafe. It's a bit pricey, but there's plenty of food. Also, be sure to bring a sweater or jacket. We will be out on the roof looking through the telescopes after dark (weather permitting), and it can get cold. Bring a backpack. The bus will not be available during the time we are at Griffith. All food items will need to be stowed away in your backpack (Griffith does not allow food into their exhibit halls but you may eat at the outside tables).
ITINERARY: Detailed list of activities may be posted at the end of this web page as the trip draws nearer. Trip includes admission to planetarium show, telescope tour and observation (weather dependent), Event Horizon theater presentation, and time to view the exhibits.
FIELD TRIP WAIVER FORM: All students will be required to turn in a waiver form. Click here to download the field trip waiver form. I will also have copies for you to fill out before boarding the bus. If you are under 18, you will need to get a parent or guardian's signature in advance (so print out in advance and get the required signatures beforehand).
FOR MORE INFORMATION ON GRIFFITH OBSERVATORY:
http://www.griffithobs.org/
MAPS OF THE OBSERVATORY:
http://www.griffithobservatory.org/vmap.html (low resolution)
http://www.griffithobservatory.org/pdf/GOMapBW8_5X11.pdf (higher resolution)
IF YOU CAN'T COME WITH US - GO ON YOUR OWN (on a different day - not for extra credit):
You can not drive yourself down and meet us there (due to liability and insurance issues). However, you can drive down on your own on a different day. Download this Griffith Observatory Visit Worksheet to help get the most from your visit. Be sure to watch the "Event Horizon Theater" presentation, see the planetarium show, check out the solar telescope, check out the displays indicated on the worksheet, and observe through the telescope if you are there in the evening.
REFUNDS:
There are no refunds for late cancelations unless we are able to find someone to take your spot.
-----------------------------------------------------------------------------------------------